September 2021 Newsletter
FALL NEWSLETTER SEPTEMBER 2021
Dear Friends of the Salvation Army,

September 2021 is an important month for Captain Haryette and me, as well as The Salvation Army of Torrance. We have had the pleasure and honor to oversee The Salvation Army of Torrance for nearly one year, having started in September 2020. The month of September is also our goal for resuming in-person music lessons and other community programs. You'll be pleased to know that during the pandemic we are still providing music lessons online, safely distributing more food and hygiene supplies than ever before, and recently gave 100 students backpacks filled with school supplies.

September also holds an event we are very excited about. Our Advisory Board, Captain Harryette, and I would like to invite you to our open house to experience for yourself all the services The Salvation Army of Torrance provides.

On September 18, any time between 10AM and 4PM, you are invited on a guided tour of our Torrance facility. No RSVP is required, and light refreshments will be provided. This is a great opportunity to see our newly remodeled facility, learn about the many services we provide, and meet our Advisory Board members.

I sincerely hope to see you on September 18. Thank you for your support of the many services we provide at The Salvation Army of Torrance. We look forward to many more years of service to this wonderful community.
God Bless,
Sean O'Brien, Captain
The Salvation Army of Torrance
Serving Torrance, Lomita, Carson, Wilmington, Harbor City,
and Palos Verdes
---
OPERATION BACKPACK
The start of the school year can be a stressful time in a normal year, and for one in five children living in poverty, parents often must choose between buying school supplies or putting food on the table.

Walmart and The Salvation Army have partnered for more than 30 years to meet local community needs, and through generous donations we distributed 100 backpacks with supplies to students going back to school!

We want to say a big thank you to our volunteers and donors who joined together to make Operation Back-pack a success.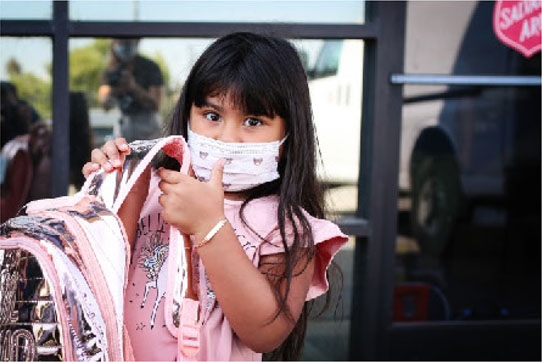 ---
ADVISORY BOARD MEMBER SPOTLIGHT
Maureen O'Donnell
Question: When did you join the Salvation Army Torrance Corps Advisory Board?
Maureen: I joined the Board in 1983 and have served ever since. One of my best memories of my early days serving on the Advisory Board was the Red Kettle bell ringing that happens at Christmas time. We worked very long shifts in those days-eight hours long– and it was hard work. But it was worth it to know the people we were helping.

As a Board member today, I'm especially proud of the services we provide from the Torrance Corps, such as the family services offered through the Stillman Sawyer Center and the music programs offered by our music and performing arts school. We have a wonderful outreach to the community.
---